ok, Im no writer, but heres a little prologue that should introduce the story and let non-vegas players get an idea for the setting.
Prologue
The Mojave Wasteland. Most folks think of it as a barren desert, filled with nothing but gangs of chem-crazed convicts and mutant bugs. Not a bad description, but us wastelanders see a lot more than the puddles of irradiated ooze. We made homes in the crumbling ruins of the cities, We tamed the more useful mutated animals and hell, we even made our own card game.
I'm a peace-keeper by trade. I travel from town to town, helping people with problems and putting bullets in legion skulls. Sometimes though, I'll see a pretty little nik-nak that the owner doesn't seem to be watching, and it might "go missing". I like to think of it as a bonus that they forgot to mention. Still, people love me.
While I'm sitting at a campfire, cooking up a pot of squirrel stew, Travellers sometimes spot me and have a seat next to me and my posse. They always ask me the same thing: "Go on! tell us how you got so damn famous!"
I always tell them the same thing, that I Retired from NCR and put my skills to better use. Its not a lie, but its not the whole story. I'm getting on now, and it's about time I let the world know the REAL story of Raymond Will.
Mojave wasteland: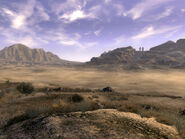 CONSTRUCTIVE criticism welcome!