Good day fellow Chorrolmates. I am Lady Saga, and today I'd like to talk about the
saga of Ann Thraxx
.
I originally posted all of the text of posts 1 and 2 over at Bethsoft's Oblivion: general area. Forgive the crudeness of some of the early text, for I was not originally writing Ann's tale as a true story yet. In Post #2, this starts to change. Post 1's text was originally in the Where are you Now #7 thread, and Post 2's text came from my own thread in OB: General.
This character is probably my deepest Oblivion roleplay to date. Originally I wanted her to be "Renee Gade III", which means she'd be some sort of heroic figure. But as Ann Thraxx evolved, it was apparent she's going to have a story much different from what I had originally conceived.
Although I'm on PS3, I performed a couple little tricks which I like to call pretend-mods.

I used another character's game save, so that Ann never had to go thru the Tutorial part, then I fast-traveled her to just outside the Imperial City...
Chestnut Handy Stables
, to be exact. I had no idea
why
her game started here, though. That was not made known to me, yet. I also didn't know who Ann was, exactly. All of this becomes apparent during the massive text below.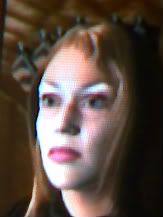 Name: Ann Thraxx Race: ImperialSex
: female.
Class: peasant (custom)
.
Starsign: Atronach
D&D alignment: Chaotic Neutral
A
nn Thraxx the wayward peasant has just arrived at Chestnut Handy Stables outside the Imperial City. She arrived here by carriage, and it is nighttime...dark and rainy. She's wearing nothing but one of those horrible Cyrodiilic bras and some sack cloth pants. No shoes, no shirt.
Ann has heard there's a place to stay in "some house on the Waterfront" * so she's walking there now.

* I think there's a free bed in one of the houses on the Waterfront. if there is, no problem. A "friend" told Ann there's a place she can stay. But if there is no free bed, Ann will have no place to stay.
Her family is no more, and she is sad. I'm thinking she was a farmer of some sort, perhaps, and lost her farm. Her husband got killed perhaps, and Ann is right now in serious depression, serious culture shock. She's been to the I.C. before, but never actually lived here. She's used to the wide open plains of the West Weald.
She is poor, but she is also fortunate to have 58 gold in her pocket, along with a soul gem and a few minor things which can be sold. How she got all this stuff? We shall find out, won't we?
Ann Thraxx arrived at the
Abandoned Shack
, which is anything but abandoned! It was about 6am Cyrodiilic time, and Hillod the Outlaw and a dark elf male (forget his name) immediately rose as Ann walked in the door. Oops...
"Please, I didn't mean to startle you" she said to the dark elf. "I am Ann Thraxx. I have been sent here and was told I could spend the night. I've lost my home and my family..."
What was interesting was the dark elf's greeting had something to do with losing his job or being out of work or something. This fit right in, so that Ann and the dark elf had a short conversation about finding work.
The situation in the Abandoned Shack was awkward as the 2 males stood around staring at Ann. This isn't what she expected! Ann "got to know" Hillod and dark elf, and gave them more than half of her 58 gold (she basically bribed him so she can stay in the Shack). But the guys wouldn't leave!
Ann took a short walk outside, deprived of sleep and getting dizzy. She found a couple beggar beds which were open, but there's no way she's gonna stoop that low.
Finally she made her way back to the Abandoned Shack. It's now 8 am and Hillod + the dark elf are both gone. Finally.
Ann sets off to sleep. When she wakes, she's going to see about looking for work in the Imperial City.
.