Hello, it's been awhile since I've posted here as Lady Saga. Renee Gade IV likes to clutter her character stories up into one big mess, while I prefer to post individually, as we shall see.
What I am going to be writing is a series of journal entries from a new character of mine: Master Baytor. It's okay, go ahead and laugh.

He is an Altmer from Summerset Isle who has been comfortably living in Cyrodiil ever since the Great War. He learned a bit of magic in the Imperial City, and also is somewhat proficient with swords. He is a Spellsword, my first dual-wielding character, and third character to attempt the Main Quest & Civil War with. He'll be doing the Civil War. He's a Thalmor agent, trying to aid the Imperials at war, although as we shall see, the word "trying" is to become pertinent at the beginning of this tale.
And here is his first journal entry.
- - - - - - - - - - - - - - - - - - - - - - - - - - - - - - - - - - - - - - - - - - - - - - - - -
Sundas, 11:15 PM, 17th of Last Seed, Year 201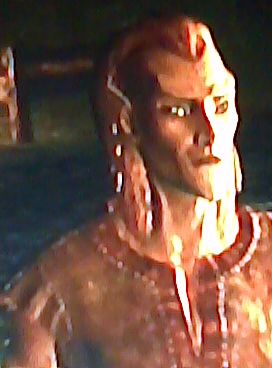 Those impetuous fools! To think that they could send me to Skyrim, and then trick me into a bargaining of sorts, thrusting my inhibitions and mocking my terrantcy!

I ... am Master Baytor, Disciplinary Lord of the Aldmeri Thalmor. I have started this journal as a record of sorts, that he who might find it might also know of my tales, and how I have come to make arrivation into Skyrim. The 'impetuous fools' of whom I speak might gladly bow thy heads in shame, were they to know whom they were dealing with! I am (and always will be) one of them! Foolish degredators!

I am not the TRAITOR of whom they seek!

Not so long ago, the White Gold Concordat promised many great things: the ending of the Great War among them, as well as the joining of forces between Imperial regimentations, and the Aldmeri Dominion. All of these great things have been long decided, yet here I am. I, Master Baytor, made travels with a group of others, all of us up from Cyrodiil and the Summerset Isle, planning to make our visitation brief, and to the point. When we did make sudden appearance upon a camp of Imperial-led soldiers located not far from Pale Pass, chaos did erupt! We elves were quickly be-sieged; many of us fell. Only I and perhaps one other did survive.

An errant move on the specious foolish Imperials! We are not of betrayal, and the wrong was not righted for many many hours. Why might I be chosen for such sodden mockery, and thrown onto a cheap wooden cart along with criminals, low-lifes, and (behold!) General Tullius himself? These questionings are (as of now) un-answered by the incompetent boobs who made ruination of my first days in Skyrim.

My companions are not of presence, but I am on their side, the side of the Imperial Empire, or so it would seemingly be.

But this tale ends not yet. .. The things I have seen, the The events I have beheld, would fill tomes full of fantastical but laughably erroneous scripts, had they not have actually happened. For upon my very execution, after being branded a superfillious traitor, did I nearly commence to have my very head befallen, lopped off with an axe the size of an oxen's yoke. Yet was I saved.

I was saved.

I, by mighty voice spoken by the Eight, do require some dispensation of belief, here. Cast aside thine judgements. For what I am about to write next might very well drive you into titters and tatters of comical belly-laughings. But I swear upon the hand of mighty Akatosh that such occurances did, in fact, occur. From the very sky did a large shape devolve, and land upon a nearby stone fortification-tower. It was not to be believed. A dragon! A dragon did make ruins of the whimsically dreadful village known as Helgen. Twas not to be of belief, I must say! That such a dark force from the sky, breathing gaseous forms not be be taken abruptly, did actually appear and commenced to also attack! Many men fell by the wayside as it hopped and flew from one perchment to the next, arrows and fire lighting the sky, in hopes to take the flying menace by much lesser devices.

Yet I did make my escape! For here I reside in a small hamlet known to the locals as 'Riverwood'. All sod and dirt. Where are the great stone edifications of which I have heard?

Any-ways. In Riverwood dwell'th I, while the dragon has made its escape, flying off into the day's sky like a damnation from the planes of Mehrune's Dagon.

MASTER BAYTOR, who now seeketh his long-deserved rest
.