Hello people, and welcome to the Chorrol > Oblivion Spoilers > Today in Cyrodiil thread, a place where one can write all about their charcters in TES: 4 Oblivion, and include spoilers in the story. I realized that the other Today thread is in General section, and this new character of mine is going to have a lot of spoilers in her story, so here goes.
Let's meet my new one!
(
)
(
)
(
)
(
)
(
)
(
)
(
)
(
)
(
)
(
)
(
)
(
)
(
)
(
)
(
)
(
)
(
)
(
)
(
)
(
)
(
)
(
)
(
)
(
)

Morndas, 2:12 AM, Last Seed 27, 3E433
"Pale skin.... snotty expression," says the putrid voice of a dark elf, somewhere nearby.
The captive woman awakes slowly.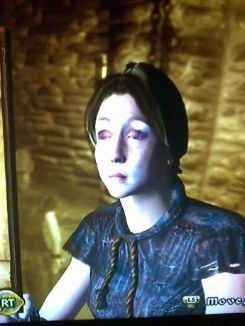 "Yo're a Breton", continues the voice ..."the masters of magicka, am I right? Hmm?"
"What?" the captive calls out.
"Yo're nothing but a stuck-up haahlot, with cheap pahlor tricks. Go ahead! Try yo'r magicka in here! Let's see you make those baahs disappear!"
"You know of my magicka? And how?" the captive is now confused. She does know some 'magic tricks', but her knowledge is limited to just a couple of minor spells.
"Ohhh what's the mat-ta? Not so powerful now, are you Breton? Yo're not leaving this prison 'til they throw yo'r body in the lake! Ohhh that's right, yo're going to DIE in here, prisoner. ... Yo're going to
die!

Joan of Arkay
begins to remember what had happened to her. The faire she had attended. The challenge of her faith by a non-believer. The subsequent argument which had turned ... nasty.
"A Redguard had then come to my assistance," she remembers. "A sweet-talker, that one. Guards made a showing, the fight did gather with persistence..."
Beyond this, Joan cannot remember the rest. How did she wind up
here?
In a jail cell? ...
As she tries her memory, she suddenly hears voices. Footsteps. A group apparently is approaching her cell. "...we don't know that sire," says a woman's voice; a fellow Breton. "...the messenger only said .... "
"Nooo they're dead. I know it," says a man. His voice sounds deep and familiar.
"Whot's this prisoner doing here? This cell is supposed to be off limits!"
"Usual mix-up at the watch.... I ah..."
"It doesn't matter, let's get this gate open. Prisoner! Stand over by the window," commands the female Breton.
"I .. but I ..." Joan stammers.
"We won't hesitate to kill you if you get in our way!"
"But it was not of my intentions!" protests Joan. "I was merely one bystander caught up in needless challenge!" her voice is strong. Resiliant.
"Prisoner, stand over by the window now," says a male soldier. "Do as you say, and you won't get hurt".
At these words Joan concedes, and finally does as she is told.
"Stay put, prisoner."
Joan of Arkay is not prepared for what is to happen next, as the Emperor
himself
then enters her cell. Emperor Septim, leader of all Tamriel. His bearing so regal, his clothing so colorful. His presence is both overbearing and unexpected, and all of this fills Joan's cell. She can barely breathe.
Uriel Septim VII is in my jail cell?
Joan of Arkay thinks she might be in one of her bizarre dreams, only this one's much more real.
"Yooooou", says the Emperor "I've seen you. Let me see your face," he says, getting closer to Joan. "You are the one from my dreams...."
(
)
(
)
(
)
(
)
(
)
(
)
(
)
(
)
(
)
(
)
(
)
(
)
(
)
(
)
(
)
(
)
(
)
(
)
(
)
(
)
(
)
(
)
(
)
(
)
3:20 am
"... as for what you have done, that is not what you will be remembered for..."
The Emperor rambles on about how he's seen her before. He seems to
know
her, and obviously, this leaves Joan stunned. Surprised. Surprised at this interruption of her apparent jail sentence. The Emperor has apparently been targeted, she learns, and all his sons have been assassinated. A secret escape route which starts in her cell is now being utilized, and the entire group now leaves her cell, as the one of the stone walls starts sliding into the floor.
"Stay out of our way, and you won't get hurt," says one of the soldiers as they all slip by.
Joan of Arkay initially obeys this command, even as the wall which just slid downwards does not rise back up, leaving a large hole in the wall.
This hole is there, but I must serve my sentence
, she thinks
I should not leave
. To end one's jail sentence early would not only be considered dishonorable, it would be illegal.
But did not the Emperor himself provide every reason to doubt my captors? ... Hadn't he said (in so many words) that my sentence would now be pardoned?
These are not ordinary circumstances, then.
Joan can see her jail cell (the iron door itself) is still locked, and she initially thinks of calling the guards so they can move her to another cell. But after much time (and a bit of hollering) no guards come. Nobody shows up. During all of this, the dark elf still stands in his cell across the hallway, watching her.
"What do you make of that?" Joan calls to him. "The Emperor and his personal guards just traipsed through my cell! .. How can this be?"
But he does not answer. Perhaps he is just as surprised as she is.
"Well, it cannot hurt if I traipse a bit down this passage," Joan rationalizes. "If I get caught, so be it. The door is opened, as the expression goes. And did not the Emperor
himself
say he had seen me in his dream?"
Dreams. The dreams. Had the Emperor been having the same dreams as she? Joan of Arkay's curiosity is piqued at this. She now makes her way out of her former jail cell, and down a dark, sloping passage towards her destiny.